&nbsp
---
Covid Restrictions for Winter Wonderland Cluster
1. Masks will be worn in the buildings at all times. If you are outside and can maintain social distancing you do not have to wear a mask.
2. No Force Dryers are allowed in the grooming area. You may use stand and handheld dryers.
3. In order for the Cluster do our best to maintain social distancing in the grooming building, we are asking that you stack your crates, no living rooms and chairs only when absolutely necessary. Please try not to use the grooming building for socializing.
4. The show rings will have an entrance, under the arch, and an exit at the judges table. Please be cognizant of the 6' feet social distancing in the rings. Once you have shown your dog and are no longer needed for continued judging, please leave the building. There will be hand sanitizing stations set up and the entrances into the buildings.
Grooming will be in the Georgia Grown Building
Miller Murphy Howard Building (for this year only) will host 6 Conformation rings (1 – 6), Vendors, AKC Reps, Trophy and Club tables, Show Photographer and the Show Superintendent.
McGill Building will host 6 Conformation Rings (7 – 12)
The Roquemore Building will host the Thanksgiving Luncheon, Judges Luncheons and the Eye Clinic on Saturday. The cost of the eye clinic is $45.00. The Heart will be held outdoors per the Doctor's request. Exact spot to be determined.
Heritage Hall will host Obedience & Rally on Friday, Saturday and Sunday morning.
The Savannah Kennel Club will be hosting coffee and breakfast snacks from 7:00AM until 9:00AM. The servers will be masked and gloved.
On behalf of Kennesaw Kennel Club, Inc, Oconee River Kennel Club and the Savannah Kennel Club, we want to welcome you to the Winter Wonderland Cluster Website!
Our yearly Cluster, now six exciting days of shows and NOHS competition, held in Perry, GA at the Georgia National Fairgrounds in the latter part of November and into December, is fast becoming the place to be!
All members of this Cluster believe that Dog Shows should be a fun and enjoyable experience! We hope you will join us this year!
---
Our Cluster this year and for 2020, will span Thanksgiving Day, with the two Savannah Kennel Club shows being on Tuesday and Wednesday. We will be off for Thanksgiving Day and then back for the Kennesaw and Oconee River shows Friday through Monday.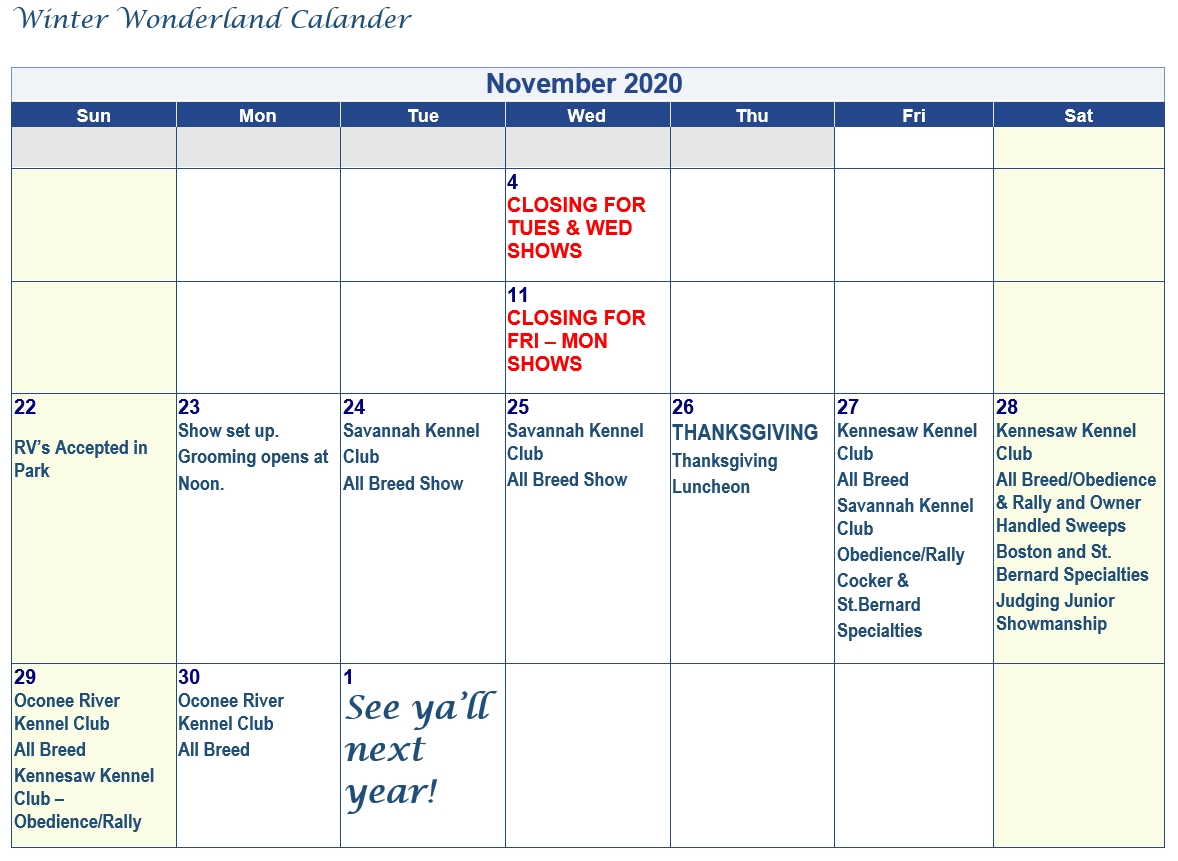 The Cluster will have a Thanksgiving luncheon on the show grounds. It will be catered by Cracker Barrel and will be available for any exhibitors that wish to participate for a nominal charge. Menu and pricing will be in the Premium List.
The Kennesaw Kennel Club will once again hold our Owner Handled Sweepstakes on Saturday after BIS. We will also have our Best Decorated RV Contest and our Saturday Ugly Christmas Sweater Contest! We have a lot of fun with both of these events and we would love for you to participate! Come for the enjoyment of the dogs, friends and start to celebrate the Season!